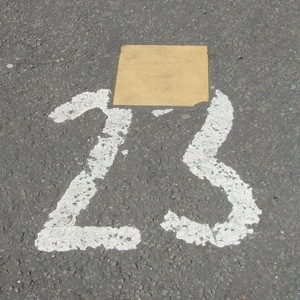 Musings, soul searching, and defense of Christ upon the resignation of Doug Phillips from Vision Forum….(read Doug's letter of resignation here: Vision Forum Ministries)
Among men who crave significance, the Spirit's fruit is with the broken, the poor in spirit, and the meek.  Those who are humble enough to be most important to just a few; their families and their local church bodies.  These are the people and places where no dangerous veneer stands between men and mutual discernment. We will be far more sober-minded where we are not famous, more honest where we are truly known, more conscientious before the eyes of our loved ones, and more honoring to The Lord when we fear Him enough to be afraid of ourselves.  This world needs men who will take up their cross and follow Christ, God forbid we would exploit the cross to impress our followers.
Remember the graves of John Knox and John Calvin.  One is marked by a crude tile in parking space 23, the other is not marked at all because its occupant lived these truths even unto death. It is deathly easy to forget that significance is no one's to grant save our Lord Jesus Christ. It matters not if the world deems us remarkable, only that our names are written in the Lamb's Book of Life.
Many of today's conferences, biographies, and self-help schemes on so-called 'leadership' illustrate the deceptive bent of our philosophy of influence.  Too often the emphasis is on technique, personality, and a head count of followers.  Christ says the last will be first, the greatest in the kingdom of heaven is a servant of all, and little children are a good example of the kingdom citizen's disposition.  There are no interviews with CEO's from fascistic conglomerates, humanistic statesman, mythic celebrities, or other household names offered in scripture to teach us universal principles of leadership independent of godly character.  We do have the record of dogs licking the blood of syncretism pioneers and the grazing habits of despotic self worshipping world leaders however.
We also have the agonizing accounts of horrific sin among the anointed as an inescapable reminder of their own fallibility.  One powerful testimony to the divine authorship of scripture is its record of original sin chronicled from Adam and through him to everyone save the second Adam.  How easy it is to forget there will never be a third Adam in this life and the ladder of acclaim leans against the Tower of Babel.
I have thought too much of myself, I have thought too much of my heroes. It is devastating when great men fall, but more devastating still to assign greatness apart from Jesus Christ alone.  May all His servants be as jealous of His glory as He is!
Having given vent to internal musings, a few additional thoughts on the external aftermath also come to mind…
Douglas Wilson's response  (http://dougwils.com/page/2).  to the situation insightfully reminded his readers of the prophet Nathan's words to David under similar circumstances.  "…by this deed thou hast given great occasion to the enemies of the Lord to blaspheme . . ." (2 Sam. 12:14).  He went on to say: "…this is one of those occasions where the enemies of the Lord can be readily identified. By their glee ye shall know them."
It didn't take long for Wilson to look like a prophet himself as babies already begin to float by in the Internet bath water.  Predictably the first article to appear when web searching Doug Phillip's name today is a Huffpost piece saturated with gossip and malice.
The irony here is incriminating.
Any cursory glance at internet blog/news sites of this ilk will reveal to even the almost analytical observer the operating philosophy of the typical post-modern information outlet.  News gathering and disseminating is a vulgar three step process. First, grasp a sponge and squeeze.  Second, dip the sponge into a cesspool of putrid cultural debauchery.  Third, squeeze the contents out over everything you propagate.
Notice The following blog titles and sponsored content appearing on the same web page as this scathing blog post on Doug Phillips.  These ostensibly newsworthy items are accompanied with pictures including a blatant salacious photo for the very next post of a couple having sex.  Read these Huffpost headlines and TELL ME WHERE THE REAL SCANDAL IS?
-18 Things Every Woman Should Have Been Told About Sex, But Probably Wasn't…
– Slip dresses: the best way to wear lingerie as clothes (and be super comfy)…
-This story could bring the worst shame to the White House since the Clinton era…
-'Celebutard' lipstick pulled from Sephora after backlash over name…
-Your favorite paintings come to life in these disturbingly hilarious animations…
-Man with 128 plastic surgeries says its 'more socially accepted' for women to get it…
…..And everyone is supposed to be shocked, appalled, and terrified, as if modest women and responsible men educating godly children will be the death of us!!
IF WE PREFER TO IDENTIFY CULTURALLY WITH THE HARLOT OF HISTORY, THE WRITING ON THE WALL IS LEGIBLE IN REVELATION 18!!!
(verses 4-6)
"Then I heard another voice from heaven saying, "Come out of her, my people, lest you take part in her sins, lest you share in her plagues; for her sins are heaped high as heaven, and God has remembered her iniquities. Pay her back as she herself has paid back others, and repay her double for her deeds; mix a double portion for her in the cup she mixed."
Remember, if truth itself stands on the character of the spokesman, we would all be God.  Since this is what humanists in fact believe, the theological presuppositions of the Huffpost are no surprise.  Thank God truth stands immutably on the perfect character of God alone in spite of David, Doug Phillips, or any mere human messenger.  To exploit this occasion to claim Christ's Word is void, is to reap His Word of judgement.  Haters take heed lest you fall.  If it is ultimately Christ you take issue with, your descent will be broken by hell.
-Soli Deo Gloria
-Ken Carlton